A member of the new generation of pastel artists, Corey Pitkin PSA is predominantly a self-taught artist whose work transcends the practice of observational painting from life. Pitkin's work is an exploration of ephemeral beauty expressed simply and genuinely. Using muted colors complimented with subtle edge work, his pieces shift and glimmer yet maintain their precision. His subjects are memories that slip away when you try to hold onto them for more than a moment.
Pitkin's award-winning work has been featured in The Pastel Journal, Art Renewal Center, Portrait Society of America, and International Artist magazine, and is held in collections across the world. Pitkin teaches frequently in his local art community and regularly travels for workshops. He currently resides in upstate New York with his wife Esther and children Anastasia and Xavier.
FULL LENGTH VIDEO         14 MINUTE TIME LAPSE VIDEO
100 Year Old Sennelier Pastel Box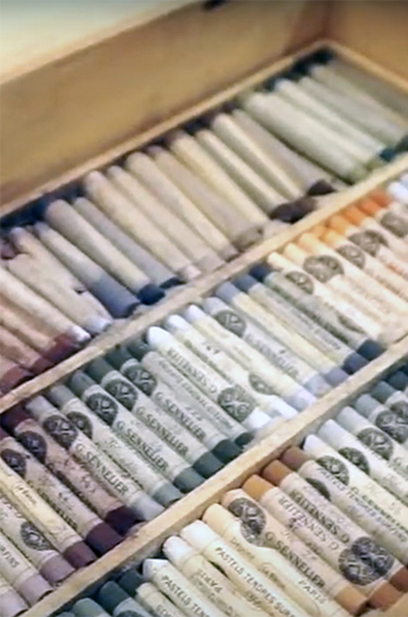 This is the story of how the Francis Stetson Humphrey Sennelier nineteenth-century pastel box came to the Metropolitan Museum of Art because of a post on the PSA Facebook group page.
Pastel Society of America President Jimmy Wright hosts a PSA Facebook group consisting of more than 6,000 pastel artist and collector members. A society member from Florida, Kathy Detrano PSA-MP, made the following post on February 6, 2014:
"Need help with a PASTEL MYSTERY. During a recent art gallery opening while I was doing a pastel demo, a woman, Jeannine Humphrey, approached me, very interested in my pastels. Turns out her father-in-law, born in the 1880s, left her a box of pastels. She asked me if I could help her figure out if they are any good, what they are, etc. I will be visiting her Monday, but perhaps someone here might have an idea of what I might expect. She describes the pastels as clean, round, a couple inches long, no wrapper on the sticks, in a wooden box cushioned with cotton. I think she used the word powdery. The man lived in California and was most active with pastels during the 1920s. Anyone know which pastels might have been around the US/California in the earlier part of the twentieth century?"
This Facebook post and subsequent posting of photographs of the pastel box set in motion the series of events that led to the donation of Francis Stetson Humphrey's Sennelier pastels to the Metropolitan Museum of Art in New York City.
During lunch on August 26, 2014, when Dr. Marjorie Shelley, Sherman Fairchild Conservator in Charge, Sherman Fairchild Center for Works on Paper and Photograph Conservation, Metropolitan Museum of Art, was serving as the awards juror for the 42nd PSA Annual Exhibition: Enduring Brilliance!, Jimmy told her of the amazing box of nineteenth-century Sennelier pastels he had stumbled across via Facebook. Dr. Shelley immediately expressed interest in the box as a possible addition to the Sherman Fairchild Center for Works on Paper and Photograph Conservation's study collection of nineteenth-century materials.
Karl Kelly, manufacturer of Mount Vision Pastels, Tampa, Florida, acted as art courier carrying the box of pastels, by hand, on his flight to New York for the PSA Materials Fair on September 20, 2014.
On September 29, Marjorie Shelley carried the box of pastels on her lap in a NYC yellow cab from the PSA office at the National Arts Club to their new permanent home at the Metropolitan Museum of Art's Sherman Fairchild Center for Works on Paper and Photograph Conservation.